Okay, this is a song I made up and recorded using the Magix Music Studio program. Don't be too critical, because this was just a test run to kind of see what I could do. I know I was flat in a few places, but this shows the potential of the software. The song is my own composition, and the lyrics are Revelation 1:7 verbatim from the New International Version:



"Look He is coming with the clouds
And every eye will see Him
Even those who pierced Him
And all the peoples of the earth will mourn
Because of Him.

So shall it be! Amen."



So click on the link below to download the file. It is a 500Kb RealAudio file, and will probably take about 4 minutes to come in. You will need the RealPlayer from www.real.com. You need to get it anyway if you don't have it, 'cause it's free (the Basic version), and many files on the Internet require it. If you have $30 to spare get the full version, otherwise look for the word FREE.

Click here to download Every Eye Will See Him.



If you are reading this, chances are you are a friend of mine whom I have directed here. If, however, you have arrived here inadvertantly, bear in mind that this song is protected by copyright laws (&copy2000 Neal Rolett). You have my permission to download the song for your own personal enjoyment (or amusement), but any other use will require further authorization. EMAIL me.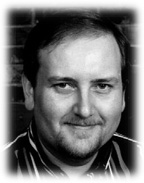 &copy2000 Neal Rolett