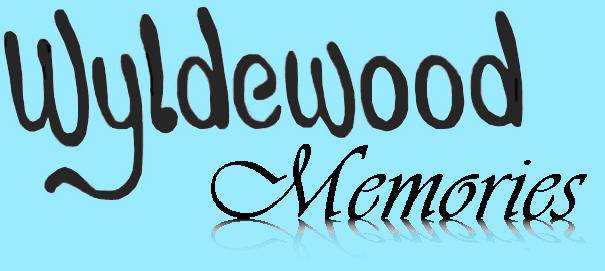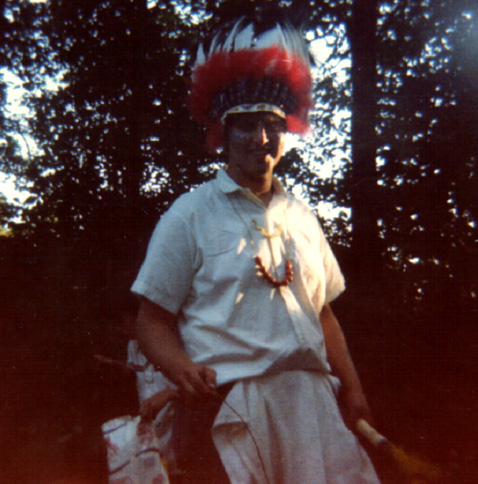 This is a picture of Lee Farrer, taken in June of 1979, I believe. I don't know where he is or what he's doing now, but I hope he sees this page, because it is dedicated to him.



Dear Lee,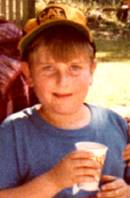 You probably don't know who I am, so let me fill you in on some things. Do you remember about 21 years ago when you were a Group One counselor at Camp Wyldewood in Searcy, Arkansas? Well, I was one of those little brats in your cabin. I don't think I ever did anything exceptional that would warrant your remembering me. In fact there was this other kid named Johnnie who was always hogging the limelight. I didn't like him very much. But there I was just sitting there day after day listening as you taught Cabin Bible, prayed with us, and begged us to go to sleep at night.

I suddenly do remember one incident that might jog your memory. My mom came to camp about halfway through the session to bring me some cookies. I had firmly decided I was going home with her that moment. She said she had to talk to you, so I watched and waited as she consulted with you. I couldn't hear the conversation, but I just assumed she was informing you that I wouldn't be in the cabin that night. Imagine my surprise when she just got in the car and left. I don't know what you said to her to make her abandon her hysterical son, but my life and the lives of hundreds of others were immeasureably altered by your words. You see, if I had left with her that day, I feel confident that I would have never given Wyldewood another thought. But I stayed, and came back the next summer, and the next--21 summers in all. Let me give you a few highlights.

Of course, I went on to be a camper in all four age groups, always knowing at the end of each summer that I would be back. Those years are all a blur of talent shows and closing devotionals, Hymn Times and Cabin Bible. Each year endeared Wyldewood to me more and more. Many of the campers are lost to my memory, but I do remember every one of my counselors, many of whom I had more than one summer. You may know some of them: Ted Duffy, Don Horseman, George Exum, and good ole Phil Petty from Houston--none of whom I'd have ever known if you had let me go home that day.

The First Session of 1986 was a very special time. I was in Group Four in Phil Petty's cabin with his bunch from Houston. I'll never forget those guys. There was Rodney McBee, Tyler and Jerry Cutshall, Ray Miller, and Brian and Craig Mashburn among others.

I wish I had know at the time that First Session 1986 would be my last session as a camper. After I got home, I started missing camp really bad. I had heard that Brian Mashburn had stayed on to work in the kitchen, so I decided to go visit him. I helped him a little in the dishroom, and decided that I would try to stay. I approached Coach Groover, and asked if I could work as a volunteer helping Brian in the kitchen, and he said yes! It was my dream come true. I was allowed to move into a staff cabin, and I got free snacks at the canteen. After about three days of helping Brian, he got moved out to fill a counselor position that had been unexpectedly vacated, which left me to run the dish room alone. After the session was over, Coach asked me to stay on , as a salaried employee. So began my staff career at Wyldewood.

I continued washing dishes for the rest of that summer. When I returned in the summer of 1987, I was allowed to be a cabin counselor. Later that same summer I was named Group Leader for Group One. As the Years went on, I alternated between counselor, Group Leader, dishes, and even spent one traumatic session in the craft shed.

In 1995, my dad became ill with cancer, and I asked Coach to assign me to dishes for the whole summer, so I could be more available to my family. I was also Bible teacher for Group One, which was a very rewarding experience. About the middle of Fourth Session, I was forced to take a leave because of my dad's deteriorating health. Four days later he was gone. It was darkest time in my life. After the funeral was over and all the family had gone back to their respective states, I decided to return to camp for the last week of the summer. It was a tough decision, but I'm glad I did it. My friends at camp really gave me a lot of support through that difficult time.

1995 was also Coach Groover's last summer as director of the camp. I had a lot of anxiety over the future of Wyldewood, because I couldn't imagine camp without Coach. But I was pleasantly surprised when the Board selected Michael Lincoln, my fifth grade teacher and good friend, to fill the position. Naturally, I had very high expectations for 1996.

1996 brought sweeping changes to Wyldewood. Critics would say it was the end of the "old Wyldewood." I must admit, I myself was skeptical at first. But I came to realize that the changes were necessary to the future of Wyldewood. The Board implemented a massive renovation, which included remodeling all the cabins and the Dining Hall. Gone are the days of hearing the crickets and the rustling of leaves outside the cabin at night. But gone also are the days of waking up in sheets damp with sweat, because the cabins are now cooled at night. It turned out to be a very wise move, because camp enrolment started to rise again. By the summer of 2000, and for the first time since the early Eighties, we were having above-capacity sessions, with some campers needing to be housed at the retreat center on the other side of the property.

2000 was my last summer as a staff member at Wyldewood. I just decided it was finally time to move on, and I made my decision known at the beginning of the summer. As the season was drawing to a close, I starting noticing the things I was doing for the last time. My last between-session break, my last Sunday registration, my last Sunday night devotional, my last Singspiration and Talent Show. All the years came flooding back as I recalled all the friends, the baptisms--all the good times, and some of the bad times. At the last Singspiration, I got the surprise of my life. The whole staff had pitched in and bought me a very nice new guitar, and they had all signed the case. When they presented it to me, I was overwhelmed. I used my new guitar to perform my song, "Heaven's Northwest Corner" for the last time as a Wyldewood counselor. After that, they all gathered round and sang to me. I could not have asked for a more meaningful conclusion to my 21 years at Wyldewood.

So that's it, Lee. It should do your heart good to know that your influence on me in Group One made such an impression. I want to thank you for not letting me go home early that time. My life would have been much different if I had.


---


Now I'd like to list some Wyldewood folks that I have not seen in many years, in the hope that some may see this and contact me. Obviously, some of the names may have changed due to marriage.

Ted Duffy
George Exum
Uduak Effiong
Mfon Mkpong --She found me!
Jane Lawrance
Valerie Osborne
Robin Baker
Gene Jones
Charla Means
Christophe Zamorde
Henri Rugeles
Kelli Faubus
Hank Strider

I can be contacted at nealrolett@hotmail.com.

Update:
I returned to Wyldewood as a volunteer in 2002. It was not near the level of involvement I once had, but it was good to be out there, even in a limited capacity. I was Bible teacher for Group One, and later in the summer, Group Two. It was a very rewarding experience for me. I want to thank Michael Lincoln and Robert Powell for giving me the opportunity to participate in this way.

Update 2003:
Once again, I was allowed to volunteer as a group preacher. Second session, I did Group Two, and fourth session I taught Group Three for the first time ever. That was a blast! Fifth Session was another new experience, as Robert Powell and I teamed up and taught Group Two together. Thank you Robert and Mr. Lincoln for letting me take part again. You don't know how much it means to me.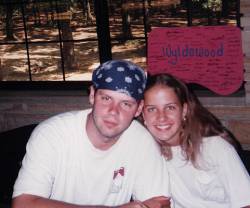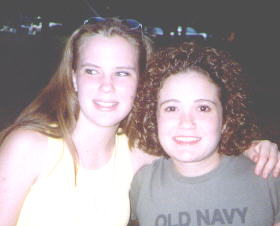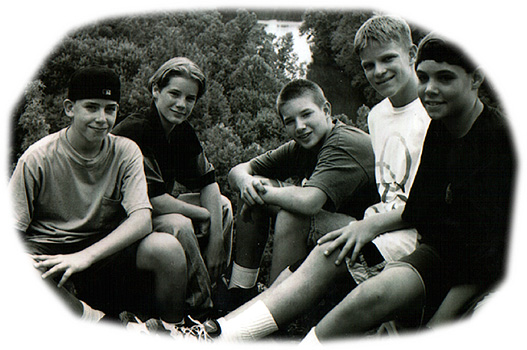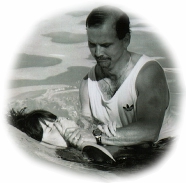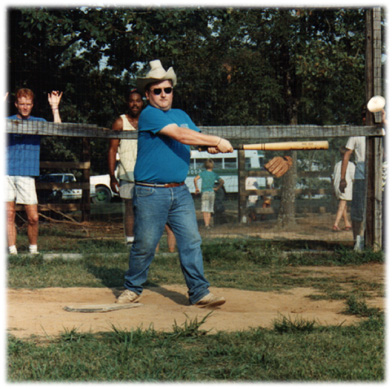 I have a confession to make. This photo has been digitally altered. The softball you see was originally behind the plate. In other words, this was a strike. You may also notice Jeff Tompkins standing behind the backstop.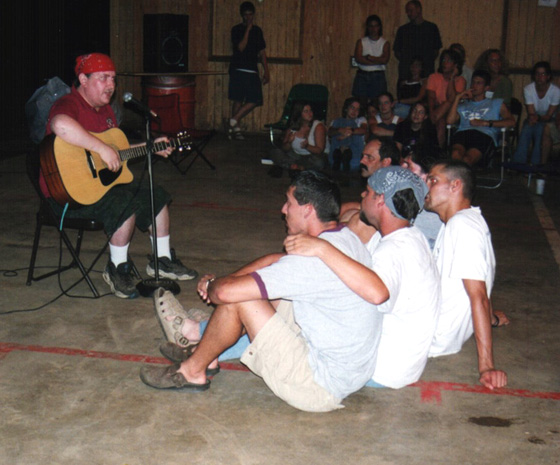 This is me performing my traditional "American Pie" at the talent show. The "groupies," starting nearest the camera: Jared Cox, Robert Powell, Joey Myers, Jacob Shock(barely visible), and Michael Lincoln.
Standing against the wall is Jeff Tompkins again. He is talking to Holly Ware in the white sweater.